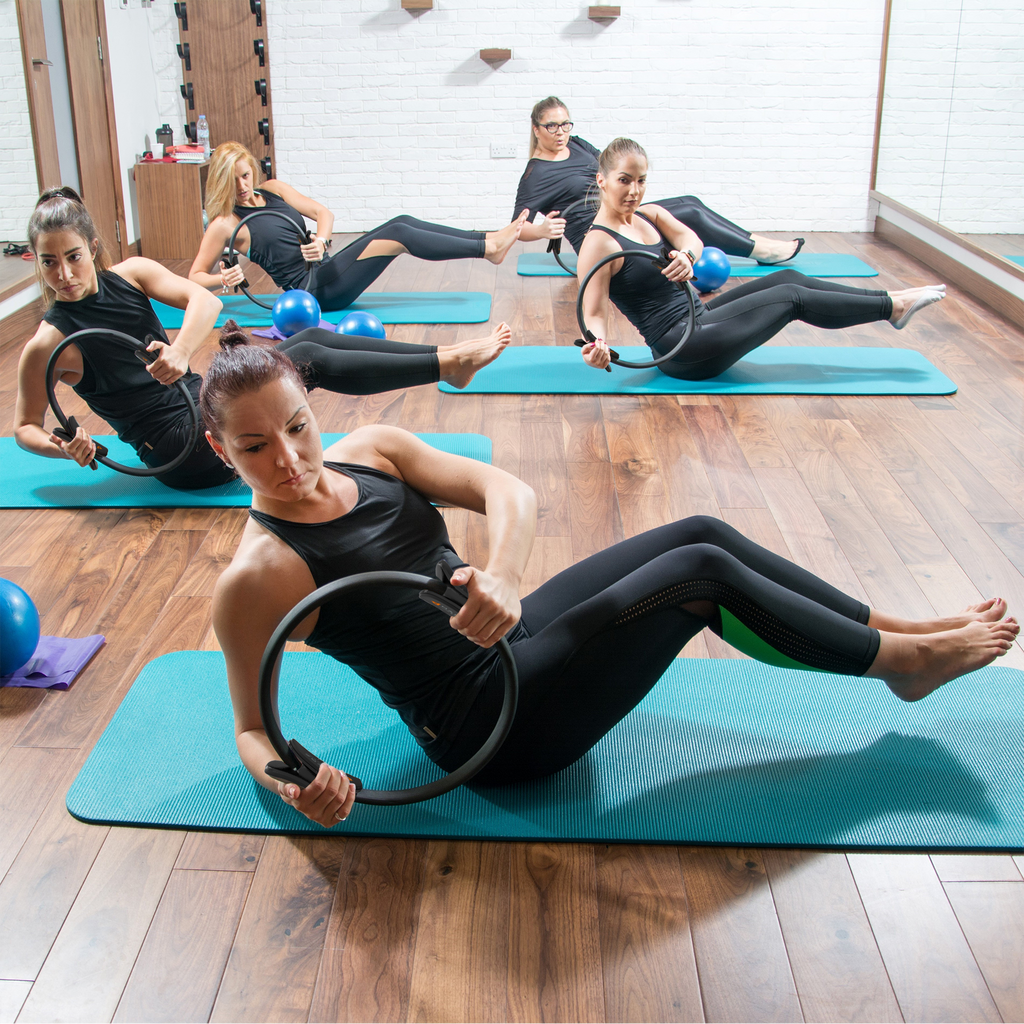 $25.97
$39.97
Pilates Ring Magic Fitness Circle
OPTIMAL RESISTANCE FOR FASTER RESULTS: Why settle for flimsy rings that can easily be squeezed together? After consultation with professional instructors and Pilates regulars, our studio strength 14-inch magic circle gives maximum upper & lower body workouts, meaning whether you are a beginner or seasoned pro, you won't outgrow the tension of this ring - making it the only Pilates ring you'll ever need!

TAKE YOUR PILATES ANYWHERE, ANYTIME: Our double strap carry bag lets you take your magic circle Pilates equipment with you wherever you go. Sling it on your back as you head out to use your own ring at the studio, take it to the office to discretely tone those inner and outer thighs under your desk, store it neatly at home when you're not using it and even pack it in your carry-on luggage when travelling. Consistency is key to increasing physical fitness and achieving greater health!
HUGE COLOR A1 SIZE EXERCISE POSTER INCLUDED: We have thought of everything you could possibly need. In addition to the toning circle and carry case, we have also included a huge A1 color wall chart (Value $20.00) which looks great in any home gym. You'll have instant access to the most beneficial beginner, intermediate and advanced illustrated exercise instructions to improve agility, flexibility and posture No eBooks or downloads needed - it's all inside the box!
ULTIMATE FULL BODY WORKOUT & TONING: Why pay for the gym or studio classes to get toned? Our Pilates Circle offers the highest level of versatility with dual padded non-slip handles on the inside and outside of the ring. This means you can develop stronger muscle tone targeting specific areas like abs, thighs, legs, arms, chest, glutes, obliques and butt. Use low impact exercises for rehabilitation from surgery or to strengthen neck and reduce lower back pain, from the comfort of home!
100% ULTIMATE SATISFACTION LIFETIME WARRANTY GUARANTEE! Buy from Mantra Sports and you're also backed by our legendary customer service – just see our reviews! If for any reason, you don't absolutely love your Mantra Sports Pilates Ring, simply contact us and we will do whatever it takes to make it right! Get ready to be a lifelong fan!