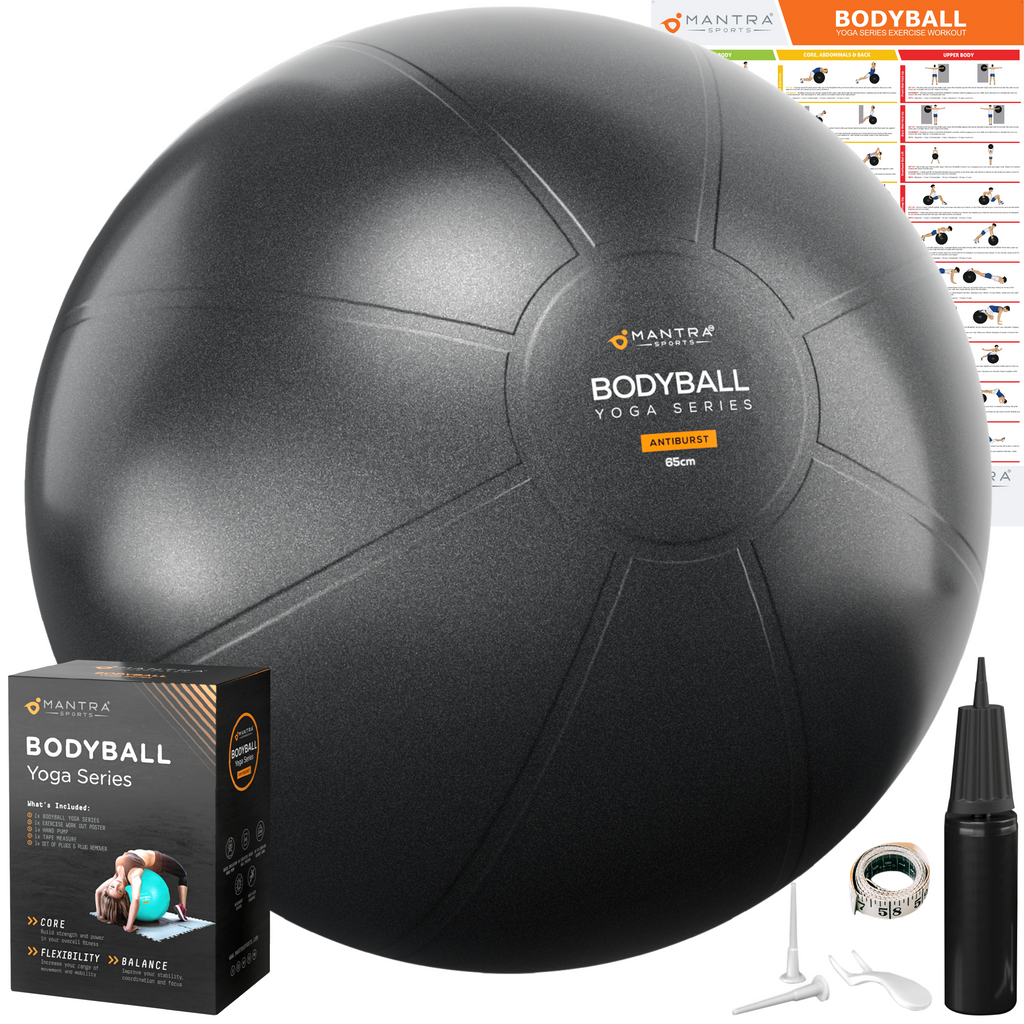 $21.97
$0.00
Exercise Ball Yoga Ball for Pilates, Pregnancy, Birthing, Therapy or Workout
GYM QUALITY WORKOUTS AT HOME: Who needs 30 different machines when you can do 30 different full-body exercises with one Pilates ball? From jackknifes to squats, hamstring curls and more, this exercise equipment for home workouts trains your upper body, lower body, abs, back, and core — all at once. We include a workout ball exercise guide (A1 size wall poster and downloadable), so you can learn all the moves.

A MORE COMFORTABLE WORKDAY: Sitting at a desk for 8 hours: doable. Sitting up straight: impossible with an office chair. It's too easy to slump or slouch. No wonder your shoulders are sore. Enter: our balance ball. By forcing you to sit up, it improves posture, eases shoulder pain, and (bonus) helps build core muscles. Pregnant? As a pregnancy ball, It also helps to relieve pressure in your pelvis, ease lower back pain and strengthen stomach muscles in readiness for labor.

WORRY-FREE FITNESS: If you're going to be lying, bouncing, and rolling on our yoga ball, it needs to be safe. Our balance ball is made from non-toxic PVC and contains no BPA or harmful heavy metals, which mean no bad chemical smells too. Plus, its anti-slip unique textured surface means you can sweat it out, without fear of sliding off. Even better: our therapy ball can handle up to 2000 pounds of static weight, and won't pop if punctured, just slowly and safely deflate.

ALL YOU NEED TO GET GOING & STAY GOING: Since a yoga ball won't take you very far if it's flat, we've included an easy-to-use hand pump and quick inflation guide. Overinflated? No problem. There's also a plug remover, spare plug and we even tossed in a tape measure, so you can get the perfect height for great form when training and to improve your posture. (Especially handy if you plan on using the swiss ball as your office chair).

DON'T-SWEAT-IT LEGENDARY SUPPORT: Designed with an extra-thick 2000-micrometer PVC casing, our physio ball is one of the strongest on the market and is built to last! We've spent years testing and refining our gym-quality exercise balls to ensure you get the best possible quality. That's why we cover any manufacturing defects, if your ball fails to meet your expectations, simply reach out and we will make it right!